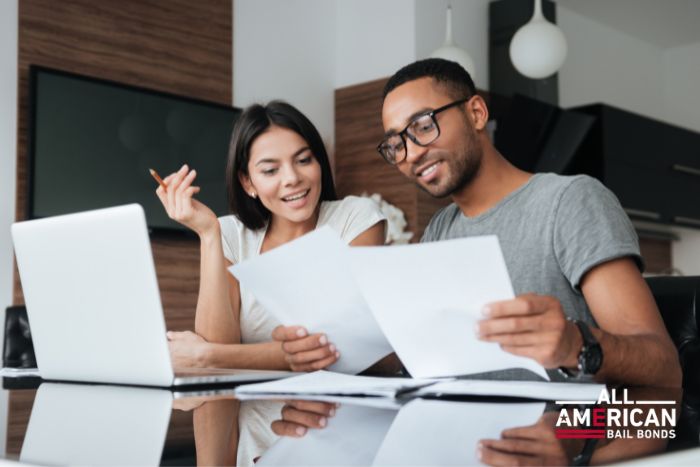 07 Jul

Financing a Bail Bond With All American Bail Bonds

Posted at 02:37h

in

Anderson County Bail Bonds

,

Campbell County Bail Bonds

,

Claiborne County Bail Bonds

,

Cocke County Bail Bonds

,

Fentress County Bail Bonds

,

Grainger County Bail Bonds

,

Jefferson County Bail Bonds

,

Knox County Bail Bonds

,

Knoxville Bail Bonds

,

Scott County Bail Bonds

,

Sevier County Bail Bonds

,

Seymour Bail Bonds

No one plans on getting arrested. No one sets aside a portion of their weekly paycheck with plans for using it to finance bail. This means that when you or a loved one is arrested, there's a good chance that you won't have money set aside that you can use to get them released.

While we can't help with all of your financial concerns, when it comes to bail, All American Bail Bonds Sevierville is ready and willing to do whatever we can to ease some of the financial strain. 
Low Fee
The first thing we've done is to keep our fee as low as possible. The maximum we charge for a bail bond is 10% of the bond amount. That means if you need a bail bond for $10,000, the maximum amount it will cost you is $1,000.
Discounts
While only some people who contact us will be eligible for a discount, some are. We currently offer a 20% discount to specific individuals. If you qualify for the discount, the fee for a $10,000 bond goes from $1,000 to $800.
Individuals who are eligible for our current discount include:
AARP members

Veterans

Clients who have hired a personal defense attorney
Payment Plans
The last thing we do to make a bail bond accessible for everyone is create flexible payment plans. The reason we have made the payment plan flexible is so that we can customize it to suit every single client's unique financial situation. This allows you to smoothly incorporate it into your budget if you're paid weekly, bi-weekly, or monthly.
Flexibility is just one of the things you'll appreciate about our payment plan. It's also zero-down and zero-interest. This means that no matter how many payments it takes to cover your fee, you'll still only pay $1,000 on that $10,000 bond.
Why You Should Turn to All American Bail Bonds for a Tennessee Bail Bond
You should turn to All American Bail Bonds in Sevierville for many reasons when you require a bail bond for yourself or a loved one.
These reasons include:
We have decades worth of experience

We provide the best customer service in the state

We are extremely quick when it comes to approving applications and getting bail bonds posted

We're available 24/7

We offer both phone and online approvals

All consultations are free
No one wants to sit in a jail cell longer than necessary. Getting out quickly means working with a bail bonds company that operates efficiently and who understands precisely how Tennessee's bail bond process works. That's exactly what you'll get when you align yourself with us.
The sooner you contact us, the sooner we can post your bail bond and have you released from jail and reunited with your loved ones. 
Consultations are always free. Call (865) 774-6779 for additional information